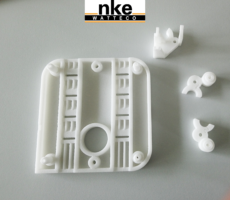 When a company goes into mass production, it wants to make sure that its manufacturing process meets the requirements of the industry. It is in this context that Nke Watteco adopts additive manufacturing.
What is it ?
Indeed, DED (Directed Energy Deposition) technology is one of seven additive manufacturing processes defined by both ASTM International and the International Organization for Standardization (ISO). This 3D printing technique allows the production of polymer parts in successive layers. In this process, thermal energy is used to fuse the material by melting it as it is deposited.
How does it work for our products ?
Before launching the injection tools, Nke Watteco uses additive manufacturing to validate the concepts as well as the geometry of its parts. Once everything is correct, tooling can be started; the goal is to have parts injected in the right material.
What are the benefits ?
On the one hand, the use of this process not only helps to reduce the time and total cost of complex components, but it also allows for faster parts manufacturing and saves time in production. On the other hand, this technology can be used for some mass production.
Back to the news